Welcome!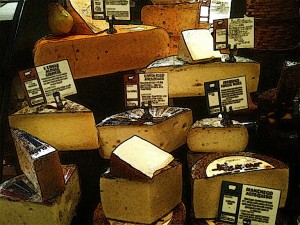 WeatherVane Creamery is a destination specialty food store and cafe that celebrates everything tasty from Wisconsin. Located in River Falls, Wisconsin, WeatherVane Creamery is the first stop for Twin Cities' locavores to explore a cheese and wine maker day trip in Western Wisconsin. Not your grandma's cheese shop, WeatherVane Creamery promises to keep traditional sensibilities with a modern twist.
Items like Monroe cheeses, Door County cherries, award winning meats from Thorp, and Warren cranberries will be featured.
The cafe will feature gourmet grilled cheese sandwiches on locally baked bread, tomato soup, organic hand dipped ice cream from Osseo, and River Falls roasted coffee.
Right now WeatherVane Creamery is on hold. Plans are happening in the background that place it's arrival to River Falls in 2016. In the meantime, look for WeatherVane Creamery's sister company www.cheesehustler.com offering cheese and other Wisconsin products for purchase out in the community and online!